Cine Gear Expo 2017 Wrap Up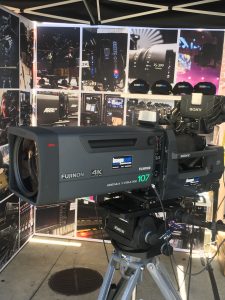 This was Imagecraft Production's first year exhibiting at Cine Gear Expo. It was an exciting and successful weekend spent at one of the television industry's longest-standing traditions. Everyone in the industry knows that Cine Gear Expo launches the summer season and it's the Southern California show not to miss.
Cine Gear Expo hosted over 20,000 attendees and over 300 exhibitors.  In the booth meeting those attendees were Mark Alexander, Gene Duggan and Ben Fuller. Here's what they had to say about the show.
Mark Alexander, Imagecraft's Strategic Accounts Manager was excited about the attendee reception of our new Fujinon long lenses, "Attendees were interested in the new customizable, UHD 4K Fly Pack that we just built and there was a lot of interest in our long lenses like the Fujinon 107×8.4 telephoto and the Fujinon premiers and cabrios. Overall it was a great opportunity to see new products from manufacturers and meet with vendors".
"We were proud to show off some of our higher end rental gear like the Arri line of cameras, as well as the Sony HDC-4300 and Fujinon 107x box lens, and much like NAB, it's fun to see how many people of all walks of the industry and of life come together to geek out over new toys." Ben Fuller, Imagecraft's Rentals Manager said, "There is a great sense of community among vendors at the show, which is a nice feeling."
Gene Duggan, Imagecraft's Director of Sales and Business Development was positive about Imagecraft's first Expo, "Cine Gear Expo was great for Imagecraft because it garnered awareness from current and potential customers about the direction Imagecraft is heading. We were able to showcase new equipment and also be introduced to more "Cine" DP's and producers and commercial shooters".
We were proud to be an exhibitor this year and are looking forward to another successful show in 2018.