Showcasing Our Video Equipment Rentals – Cine Gear Expo 2017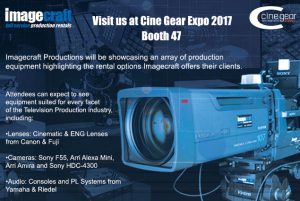 Cine Gear 2017 is fast approaching (Los Angeles June 2nd & 3rd, 2017). ImageCraft Productions is pleased to announce we will be exhibiting a number of our exciting new video equipment rentals.
Our showcase rental equipment will include:
Sony HDC 4300
ARRI Alexa Mini
ARRI Amira
Fuji 107x Broadcast Box Lens
Fuji 75-400 Premier Lens
Audio from Yamaha
and more…
Imagecraft's exhibit will be overflowing with our hottest video equipment rentals. Therefore, we will be encouraging visitors to try-out our new additions and get helpful pointers. Our Sales and Executive staff, after a quick demo, will be available to answer your questions and discuss wants/needs of video equipment for upcoming shoots.
You will find us at the expo on both June 2nd & 3rd – Exhibitor Map
Per the Cine Gear Expo Website: "Cine Gear Expo 2017 is the premier annual event for professionals engaged in the technology, entertainment and media industry. The show lasts four days in Los Angeles this June in Hollywood, California.
Cine Gear features 300 exhibits, new product and service introductions, 30+ complimentary seminars led by industry leaders, master classes, film competition, awards ceremony, special screenings in state of the art theaters and ample opportunity to network with peers within a studio environment."