Imagecraft Productions Relies on FOR-A Video Solutions for Flypack Use in High-End Live Event Productions
Recently, Imagecraft Productions invested in four new FOR-A® production video solutions for flypack use: an HVS-2000 video switcher, FA-1010 signal processor, MV-4200 multi-viewer and a MFR-5000 router.
We have featured an HVS-390HS video switcher in our road kits for a number of years, but our new product offering will be utilized for concert productions, live shows, virtual reality setups and gaming conventions.
"We were looking for a flexible and portable multi-format, multi-camera video equipment package that would work in either HD or UHD," explained Jason Been, Owner and President, Imagecraft Productions. "We found what we were looking for in FOR-A's product line. We work on a variety of productions, so our production setup requirements can vary a lot. Because of the flexibility of the FOR-A product line and its ability to integrate together so seamlessly, we are able to accommodate any needs of our clients."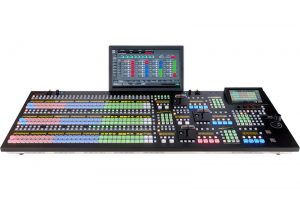 Imagecraft Productions new rental product line includes the following functionality:
FOR-A HVS-2000 2 M/E video switcher brings to the table a ton of flexibility including: the capabilities of a 7 M/E unit including MELite™ functionality which allows a traditional AUX bus to morph into a functional Mix Effects with cuts, mix, wipes, keys, and DVE including full preview.  In addition, the HVS-2000 includes FLEXaKEY™, which allows operators to add, move, and multiply key and DVE layers to traditional M/E or MELite resources, and a 2SI software option.
FOR-A FA-1010 multi-channel signal processor, which offers extreme connectivity and superior performance in frame synchronizing & color correction. Equipped with an array of essential functions well suited to video production because it includes a multi-channel routing (10-input/10-output video).
 MV-4200 multi-viewer was selected as part of Imagecraft's integrated solutions package because it offers customizable layouts and Imagecraft feels it is ideal for productions with mixed signal environments.
FOR-A's MFR-5000 boasts multi-format support, outstanding redundancy, and enables flexibility via a matrix of up to 128 inputs/128 outputs to be configured.
About FOR-A
FOR-A, a worldwide, industry-leading manufacturer, offers a wide range of Broadcast and Production products with a focus on cutting-edge technologies including: HD, 4K and IP Products.
FOR-A continues to offer future-ready, cost effective, advanced technology solutions. Products include: Video Switchers, Routing Switchers, Multi Viewers, Full 4K High-Speed Cameras, IP Encoders/Decoders, Multi-Channel Signal Processors, 8K/4K/HD Test Signal Generators, Color Correctors, Frame Synchronizers, File-Based Products, Character Generators, Video Servers and much more.
For a full range of HD and 4K Production and Processing solutions, as well as IP-Based Products, visit our web site at www.for-a.com.