Meet Ben Fuller, Imagecraft's Rentals Manager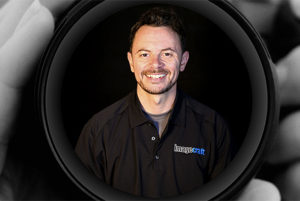 I started at Imagecraft back in the summer of 2007. I had a friend from college that worked in the shop, and he rang me up letting me know they were looking for a runner for a few weeks. There were runs going to and from a house being built out for one of our biggest clients, and I'd be spending pretty much my entire day in the van. I was between jobs while I was waiting for a restaurant to open at which I'd been hired. Its opening kept being pushed, and a few weeks tuned into a few months, and here we are, 10+ years later.
Imagecraft has been very good to me over the years. I transitioned pretty early on from runner to shop tech, and shortly after to shop manager. With a few vacated positions here and a few title changes there, I worked my way into the role of rentals manager, which I've held for around 5 years now. Getting to deal with clients on a daily basis is a good place for me. I still maintain open lines of communication with the shop staff, which has evolved quite a bit since my days in the trenches. We've always made sure to foster strong work ethic and attention to detail, as customer service has been a number one priority at Imagecraft since day 1.