'The Digital Convergence Podcast' An interview with Jason Been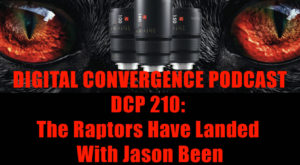 Jason Been of Imagecraft Productions returns to the DCP to talk about an exciting new addition to his video production equipment inventory: a brand new set of IBE/Optics Raptor lenses – designed for full frame sensor video cameras. Jason talks about what makes these lenses special and of interest to cinematographers. As our gear talk continues, Jason talks about why pros may choose between Sony, Canon, RED, or Arri.
As I was talking to Jason about the new lenses and gear, I became intrigued with the whole process of how he and his company works. Imagecraft Productions is not just another equipment rental vendor. They provide in-depth consultation and tailor equipment packages around the needs of producers. Jason pulls the curtain back and talks about his approach in aiding filmmakers choose a video production package that's just right for their project.
Jason Been certainly has all the K's covered whether it's 2K, 4K, 5K, 6K, 8K, or quantum K's. He and his team are ready to help get what you need for your next high-end video production.
Click the link below to listen:
The Digital Convergence Podcast
By Carl Olson, The Digital Convergence Podcast