Imagecraft Supplies Broadcast Equipment for the Premier of World Series of Darts on Fox Sports 1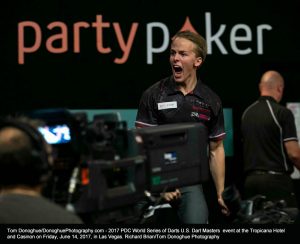 Imagecraft Productions provided much of the specialized broadcast equipment utilized to introduce the U.S. Masters, the American leg of the 2017 World Series of Darts Event, to television audiences. Previously, the circuit looped from Dubai, Australia, New Zealand and China.
On July 13th thru the 15th, 2017 from the Tropicana Las Vegas Imagecraft's client Belmonte Productions, working for Matchroom Sport and the PDC (Professional Darts Corporation) from the UK, aired over 12 hours of live professional darts coverage to the UK and world licensees plus six hours of same day delay edited coverage to FS1. Already with an enormous following in the UK, Europe and much of the world, professional darts is being hyped as the next big thing for US television viewers, expected to be on par with the renowned world of professional poker programs.
"I think it's something that's got a better than a break-even chance of working, given the fact that this is the most crowded sports market in the world. If poker can find a niche, darts can, too, given that it's now become this worldwide phenomenon." – David Hill, President of Hilly Inc. told the Sports Business Journal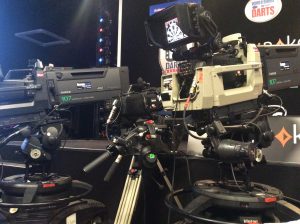 Mark Alexander, Imagecraft's Strategic Accounts Manager and long-time consultant for Belmonte Productions provided critical support for the week-long event. Working closely with Frank Belmont, President of Belmonte Productions and production manager Jason Bidle, Mark coordinated to ensure the show's broadcast equipment needs were met. The team's hard work resulted in a spectacular broadcast premiere and set the stage for next year's event already planned for the 4th of July weekend back in Las Vegas.
Imagecraft supplied the following broadcast equipment for the show:
Fuji UA107x8.4 super telephoto 4K lenses w/full servo controls. Key component as main camera board coverage shot by UK camera operators.
Avid Media Composer PC edit system w/ISIS 5500 storage w/full AVID onsite technical support
High powered CP-200 radio package w/Kenwood repeater
Imagecraft has a wide variety of broadcast television productions rental equipment available for clients who are shooting live events, sporting events and news.