Spotlight on Russell "Spud" Murphy, Technical Supervisor And All Around Great Guy
A big hearty "hello, Mate!" and a laugh usually gets the day going when Spud walks in our doors. He's always a welcome sight at Imagecraft.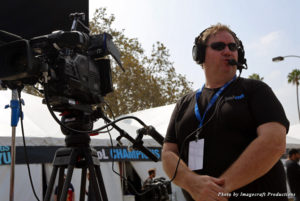 Spud has been in the film and television industry for over 35 years covering all aspects of "behind the scenes" magic. He's been a set painter, production assistant, gaffer, clapper loader, camera AC (film and video), off and online editor, post supervisor, broadcast engineer and most recently technical manager and technical supervisor/producer.
If you've ever met Spud, he's usually got his glasses around his neck and his head tucked down in front of either a computer screen or a rack full of gear, but he's always happy to see you.
The ever-changing technical landscape has kept Spud's interest since the early days of 8mm & 16mm film into the video tape formats of 1", ¾", betacam & digibeta and now all the current digital acquisition formats. This technological advancement is what "gets me out of bed" everyday.
Currently he's working on some amazing new pilots and shows that utilize the latest tech, from zero delay HD wireless video to 4k program acquisition. He is also consulting and technical managing multi-camera broadcast live television with multiple outside broadcast TV trucks for clients ranging from MTV to Blizzard entertainment.
"Being involved with my clients from concept to completion is the most rewarding aspect of my job. Helping to create a technical plan for their vision and seeing the process from execution to broadcast on the television makes it worthwhile.
I have worked with Imagecraft for over 15 years as a Technical Supervisor and EIC and I have watched it grow with the industry. Imagecraft has become a great boutique one stop rental house. Clients can find everything from help with crewing to rental of the latest technology as well as concept consulting; they have been willing to tackle any project, small or large!
I'm always happy to recommend Imagecraft to any of my clients that feel they need more than the 'whatever is cheapest' approach to production. Not that you can't get amazing deals for your money, Imagecraft understands budgets and is always willing to working with their clients in every way to make it a successful show."