Spotlight on Robert Smith, Director of Photography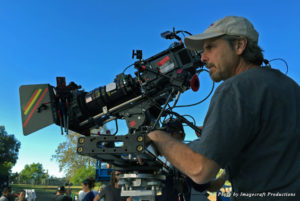 Some people are more than a grin and funny quip as they pass through your shop. Robert isn't just cool to talk with, but he possesses a remarkable talent and impressive résumé; and only when you ask the right questions do they really come into focus. That is exactly what happened when we asked about his career in the Film and Television Industry.
Robert has over 30 years of experience as a Director of Photography with film, digital, HD and stills. He understands the filmmaking process that goes into photographing a good story whether, 30 seconds or 3 hours long. Prior to working as a DP (Director of Photography) Robert gaffed and LD (light directed) for many years before transitioning into cinematography and owning Lightsmith Electrical and Grip Company in Colorado; working with established production companies from both coasts, and international.
Robert's range of productions is diverse. He's worked on large scale scripted network television, feature films, documentaries, over 800 national and regional television commercials, Informercials, Corporate Videos, Music Videos, Reality Television, Surgical Shows, Talk Shows, Red Carpets/EPKs for many Major Motion Pictures, The Oscars, Emmy Awards, Golden Globes, and SAG, as well as, Disneyland Broadcast, Comic Con, and Internet Shows – live and delayed.
Did we miss anything? Whew.
In the film and television world, it's difficult to work so much and not receive any recognition for one's work. Robert has won and been nominated for multiple awards. He's won 7 Emmys and several Tellys.
So with such a broad array of experience, it's only natural that he would teach to others what he loves. Robert has taught as an Adjunct Professor for USC School of Cinema, including a summer program in the Middle East for USC and has guest lectured at other universities over the years.
Thanks Robert for making our client's shoots great and we look forward to working with you for many years to come.
"I still love what I do for a living! I am looking forward to new adventures."- Robert F. Smith