Spotlight on Aristotle Lim, Broadcast Video and Systems Engineer
Here at Imagecraft we take pride in our crew members. When we are asked to crew a show we hand select from our list of dedicated professionals and choose those who we know we can rely on to give our clients the best possible shoot.
Aristotle is no exception. He's been working with Imagecraft for 5 years as a freelance engineer. His Technical and Engineering background is gained from over 2 decades of Live Sports Broadcast Entertainment and reality. At 18, he started with the Imagineering Dept. at Disney Burbank testing software and product development. At 19, he joined John Warren Studios building and prepping sets for shows. After a year, he headed back down to Burbank and started his engineering career and never looked back.
"My passion for the industry grew as the years passed on – determined to master the craft."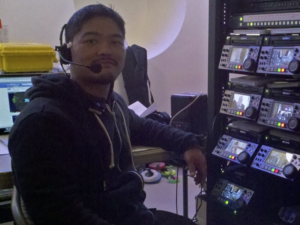 We asked Aristotle a few questions about himself and his career and here is what he had to say.
What got you started in TV and what has kept you in the industry?
"Family members and friends worked in the industry; it's how I started. The adventure, the recognition, is what keeps me in the industry"
What are some changes that have already happened or ones you see happening that you are excited for?
"I witnessed the world switch over from analog to digital…SD to HD to 4K… What can I say, these are exciting times"
What is one piece of advice you'd give someone just starting out in the TV industry?
"Stay motivated and focused. Technology and your environment changes – adapt to survive"
What sort of TV do you work on most? What do you prefer/love to do the most?
"I started with Live Sports Broadcast. I mostly work on Live, Reality, Sports & Entertainment. I enjoy working on comedy oriented shows"
Tell us one thing you love the most about what you do.
"We provide entertainment for the world. We can extract emotion from our audience and give them an experience of a lifetime."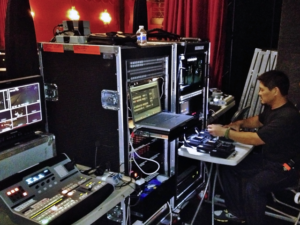 Why do you work with Imagecraft Productions?
"IC provides a solid team, industry professionals with the same goals. I would highly recommend IC. IC sets the bar; they produce quality shows."
Aristotle in the zone working with our Sony paint boxes and Blackmagic switcher on set
"Years of experience have taught me the importance of a solid team. And that's what Imagecraft brings to the table. On an Imagecraft shoot, I know my colleagues will be driven industry professionals achieving the same goal and raising the bar. We set the standard."