Rental House Profile – Imagecraft Productions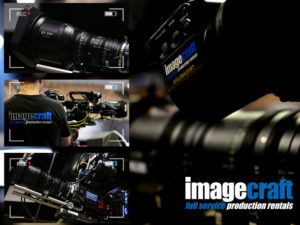 Production rental houses are not new; they've been around since the 1920s. There are hundreds of them in Los Angeles and they're all waiting for a director or producer to call and rent equipment from them.
Imagecraft Productions, a boutique rental house in Burbank, is unique to the industry. Not only do they rent television broadcast equipment, but they have their hand in cinema, live events, and mobile video as well.
Jason Been, owner of Imagecraft Productions, says that in the past 32 years it has completely transformed from a single-camera ENG news/owner-operator company to a multi-faceted company that covers everything from live event management and large multi-camera shows, all the way down to single one-man band ENG shoots.
The transition from single-camera, owner-operator began in 1998, one year after Jason joined the company. Robin Hirsch, one of the original founders of Imagecraft Productions, hired Jason. Robin saw that Jason was a gear nerd and started letting him purchase new equipment for the company. Jason started renting the gear out to shows and as the company grew, Robin let him take the reigns more and more until eventually he retired and sold Imagecraft to Jason.
Jason says, "There never really was a vision for Imagecraft, the business just evolved from show to show based off each production's needs. Before I knew it, we had huge national show clients like Supernanny and Dr. Phil. I never imagined myself sitting behind a desk everyday running and owning Imagecraft. I really love being in the field working side by side with my clients, owning Imagecraft is just a perk of the job."
Since 1984, there have been massive technology advancements in the TV production world. Technology changed from Standard Definition to High Definition and now the Ks (4K, 8K, 12K). Rental houses like Imagecraft have what seems like a revolving door of equipment. The challenge of keeping up with client demands and new technology is real, Jason listens to his clients and staff and makes every effort to keep Imagecraft's inventory stocked with what people are asking for.
So, where does Imagecraft's uniqueness come into play? Imagecraft prides itself on their ability to fully customize any package to suit the client's needs, regardless how big or small their order is, and their 24/7 technical customer support. Imagecraft knows that not every show has the same needs and not every show shoots between the hours of 9am and 5pm.
So where does Jason see Imagecraft in the next 5 to 10 years? As it was in the beginning, there really isn't a "big vision". He says, "we will keep growing and expanding, I mean isn't that every company's vision?"
Imagecraft is dipping into live events more and more; this year they were hired to manage KCON in New Jersey and LA at the Staples Center. And their cinema department is growing with the purchase of some great new cinematic cameras and lenses.
Originally Published by ProductionHUB