Meet Patel, Imagecraft's new Head of Engineering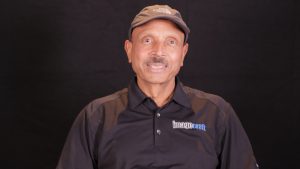 Please welcome our newest employee to Imagecraft; Patel has taken a position as Imagecraft's Head of Engineering.
Patel began his career in the television industry in 1978 where he worked for the BBC in White City, London.
For the past 39 years, Patel has found the changes in technology and television entertainment compelling enough to keep him interested and excited about what he does.
He has always worked primarily as an engineer and most recently has worked with several DPs on Beyonce, Taylor Swift, Pearl Jam, the iTunes Film Festival in London and the first ever LIVE Snickers commercial for Super bowl 2017 in 4k.
Patel says he'd really like to see Imagecraft expand into cine-style, multi-camera productions for concerts. His expertise lies in selecting cameras, cine lenses, FIZ control and workflow for 4k and Working closely with DPs and Tech Mangers to work out monitoring, power, lenses, recording 4k and HD line cut, cable runs for video and control, dynamic range and color space.
Patel was drawn to Imagecraft for various reasons, but namely he likes that the camera inventory includes Sony, Arri, Canon cameras and broadcast systems. He sees lots of growth potential and is also enjoying be reunited with some of past co-workers.
Patel's interests outside of work include enjoying the national parks, camping, volleyball, soccer and hiking.
We are excited to have Patel as part of the Imagecraft team!