IMAGECRAFT PROVIDES EQUIPMENT AND TECHNICAL SERVICES FOR SYFY's TOTAL BLACKOUT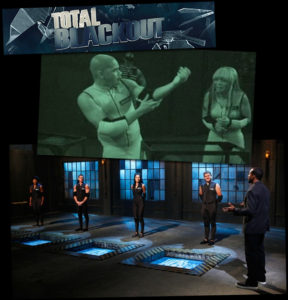 One of Imagecraft's latest projects was a show for the SyFy channel called Total Blackout. It's a new game show shot in complete darkness, and is the first game show in America to be shot in this format. The setup consisted of one full sound stage lit normally and one that was completely void of any form of light but was outfitted with IR emitters. Imagecraft collaborated with acclaimed Lighting Director Rob Hume to provide the IR emitters and IR cameras. Imagecraft also provided full audio and video packages that allowed Rob to achieve his vision, something that no other show has ever done.
Hosted by Jaleel White (Family Matters), Total Blackout is a half hour extreme game show in which contestants battle each other and their fears in a series of challenges confronting their own worst enemy – themselves. However, there is a twist – all the challenges are played in complete darkness; no lights, no blindfolds and no-holds barred as the players face their fears and unexpected surprises in a series of nerve-wracking games.
Check it out and visit THE TOTAL BLACKOUT WEBSITE for more info.
By Jonathon Carmichael