Gene Duggan, Director of Sales/Business Development
Specialty: Digital Cinema Cameras & Equipment
Gene brings a vast knowledge of every facet of production rentals, but his specialty is Digital Cinema cameras and equipment.  Learning new technologies and keeping up with the existing technologies drives Gene.  Gene's devotion to his clients and their success is what keeps them coming back.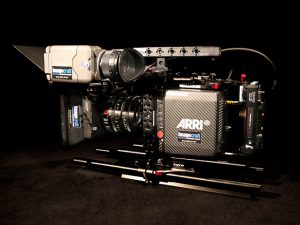 Digital cinema cameras capture film as digital video images rather than through film stock. Digital capture is saved on video tape, hard disks, flash memory sticks, and other media.  Recently, the technology behind digital cinema cameras has improved.  As a result, digital cinematography has become dominant in the industry. The bulk of movies across the world are captured/distributed digitally.
Many camera vendors have started to focus on the digital camera market.  Even traditional film camera vendors like Arri and Panavision, as well as companies which have traditionally focused on consumer and broadcast video equipment, including Sony, GoPro, and Panasonic.  Imagecraft Productions offers a stellar selection of digital camera rentals.
In the Industry since 1990
Gene started in the video industry in 1990 as a driver for B.E.R.C. and worked his way up to Operations Manager within two years. Two years later, Bexel bought out B.E.R.C. where Gene continued to work as Co-Operations Manager for four additional years including a one-year stint at Bexel NYC. After leaving Bexel, Gene found his way over to Plus8 where he worked for seven years as Operations Manager and Rental Agent. In 2006 Panavision acquired Plus8 where Gene continued working in Marketing/Sales for another four years. After a quick two-year stop over at Alternative Rentals, Gene joined Imagecraft Productions in October 2012 as Marketing/Sales Manager. Gene now is Imagecraft's Director of Sales/Business Development.
Gene has a lovely wife, Laura of 17 years, and two children, Tyler 16 and Bradley 14. In his spare time Gene enjoys going to the beach with his wife and kids and playing golf, basketball, and softball when his body permits him.